So why Dulcie Lane, where did that name come from?
Dulcie Lane is a variation of a famous lady from back in the day, and Wendy's great, great aunt.
Over the years there had been a family myth/rumour/story that there was in years gone by, a famous dancer in the family who had gone on to appear on stage all over the UK in the late 1890's to early 1900's called Dulcie Laing.
Fast forward to 2019 and Wendy's father, while researching the family tree, found the elusive Dulcie Laing on a 1901 census. Listed as a visitor at her parents' house, it stated her job as actress.
Born 1881 as Mary Annie Laing, she created the stage name Dulcie Laing and had started singing in a chorus line for stage productions. By the time she was 15 she was appearing in music halls across the country in her own show. The earliest mention found of her is in the 'Music Hall and Theatre Review' publication from 10th April 1896, see below; she would have just been coming up to the age of 15 then.

She had become known as a 'sand dancer' going on to enhance her act with comedy and singing. (Sand dancing is a form of Egyptian style dancing on sand put on a stage and made more famous by the trio act of Wilson, Keppel & Betty. https://en.wikipedia.org/wiki/Wilson,_Keppel_and_Betty ).
Following success with that she formed a comedy singing & dancing duo with Don A. Meely and set about touring all over the UK & Ireland as part of a then famous comedy dancing act.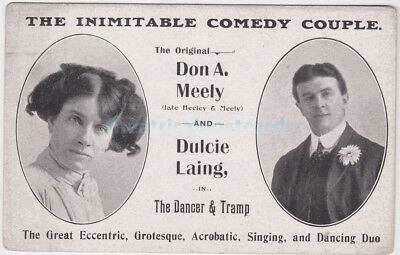 Following the First World War, she settled in Scotland with her husband where she carried on performing and going on to enjoy a life as a great dance choreographer.
So, in a homage to this lady and her creativity, we decided, with a slight spin on her name, to call our new company after her.
Thanks Dulcie, for the inspiration!